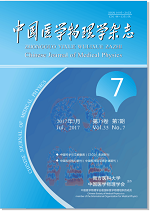 Chinese Journal of Medical Physics is the official journal of Chinese Society of Medical Physics (CSMP), a member of the International Organization for Medical Physics (IOMP). As the only comprehensive academic journal of medical physics in China, the Journal covers a wide scope in medical physics, from medical radiation physics, medical imaging physics, medical signal processing, medical equipment, medical biophysics, to brain science and neurophysics.
Published since 1981 and currently distributed around the world, the Chinese Journal of Medical Physicsis co-sponsored by Southern Medical University and the Chinese Society of Medical Physics. The Editorial Board of Chinese Journal of Medical Physics is responsible for the editorial management and publishing of both its electronic and print editions, which are now published monthly (bimonthly before 2016).
So far the Chinese Journal of Medical Physics has been recognized as the source journal for Chinese Scientific and Technical Papers and Citations and for Chinese Science Citation Database (CSCD), and has been indexed by China National Knowledge Internet (www.cnki.net) and Wanfang Database and VIP database. The target readership of the Journal include professionals who work in medical physics, teaching and laboratory staff engaged in the research of medical physics, and students of medical physics, biophysics, biomedical engineering, medical and applied physics.
We warmly welcome high-quality contributions from researchers around the world!


Current Issue
In Press
New Hire